First a random factoid. According to Knitmeter.com, I knit: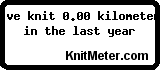 Wow! Ten and a half miles! Pretty nifty. And some of that was handspun on top of it! (I really wish that they knitmeter & ravelry were connected!!)
I gave away some handspun yarn to some knitters in my husband's family. Given they have gotten their presents, it is safe to post the pics.
Spun Alpaca from Northstaralpacas.etsy.com
I love this fiber. Maple is always a pleasure. She is the one who got me hooked on spinning alpaca. She was sweet enough to send me some fiber when I started spinning. And like any good dealer, I mean fiber enthusiast, she got me hooked! Her fiber is lovely to spin.
I like the carmel candy like look of the two plies. I wish I could recall what type of candies had that look.
My mother-in-law seemed to really like it. She also liked the card & mini alpaca soap. Northstaralpacas always puts in such nice extras with the shipment. I figured my mother-in-law would like to see the critter her fiber came from. There is something so delightful about that. *smile*
I forgot to write down the WPI and all. I think it came out to a bit over 300 yards. And was in the 10-11 wpis. But I could be mistaken.
The fiber spins like a dream and is super soft. I think this is the softest fiber I have spun. It has a lot of loft to it.
The light fawn from Polaris was actually going to be used with the Adirondack Woolery fiber I spun. But the color combo was too muddy. So I paired it with the various creme color fibers she also sent me to sample. Think it came out really well.
Creatively Dyed Seawool (Ocean blend) - 70% wool, 30% Seacell
This is the fiber I picked up for my sister-in-law at Rhinebeck. Her Ravelry profile mentioned her fav colors are maroon & coral. This isn't exactly coral, but the color is close. And the fiber & dyeing was too lovely to pass up.
The fiber spins like a dream. I split the braid into 4 strips. I did a little predrafting but not much. Spins easily and into a nice thin single. I did a 2 ply with it.
~333 yds
10-11 wpi (though there are thicker and thinner areas)
Adirondack Woolery Fiber
I picked up this fiber at the Adirondack Woolery when I was up in the Adirondacks for the July 4th weekend. I saw some on one on of their wheels and really liked it.
This was intended for my mother-in-law originally. I had planned to pair it with light fawn alpaca fiber to compliment it. But when I plied it with some other fiber, it looked really muddy. So I decided to just ply it with the same fiber & give it to my niece Amanda instead. She is a knitter and enjoys bright colors. Honestly, it might have been too tame for her. *grin*
I really can't believe I forgot to take pics of the yarn plied. Oops!
I have been spending a good deal of time spinning recently. I am working on 6 oz. of luscious fiber from winderwoodfarm. It is for a project for my friend Karen. I thought it was going to be black, but he added the silver color. Given I did a purse in black & silver for her birthday present, I think this fiber will compliment it beautiful.

I found a pattern today for a 3 way scarf (Ravelry only). I think that might be kinda ideal, though I am not sure yet. It might be too open for Karen as she is always too cold now that she is back on the East coast. But I think it might work well. I will see after I have plied the yarn. Most everything I spin is bulky so far so I am not sure if it will work. I have been spinning these singles much thinner. But I am not sure if it will even be close to the DK the pattern suggests.

I am hoping to post more regularly again. Work was a zoo last month (which is weird for December.) I am hoping things have calmed down some. But it is still kinda busy. So we will see.